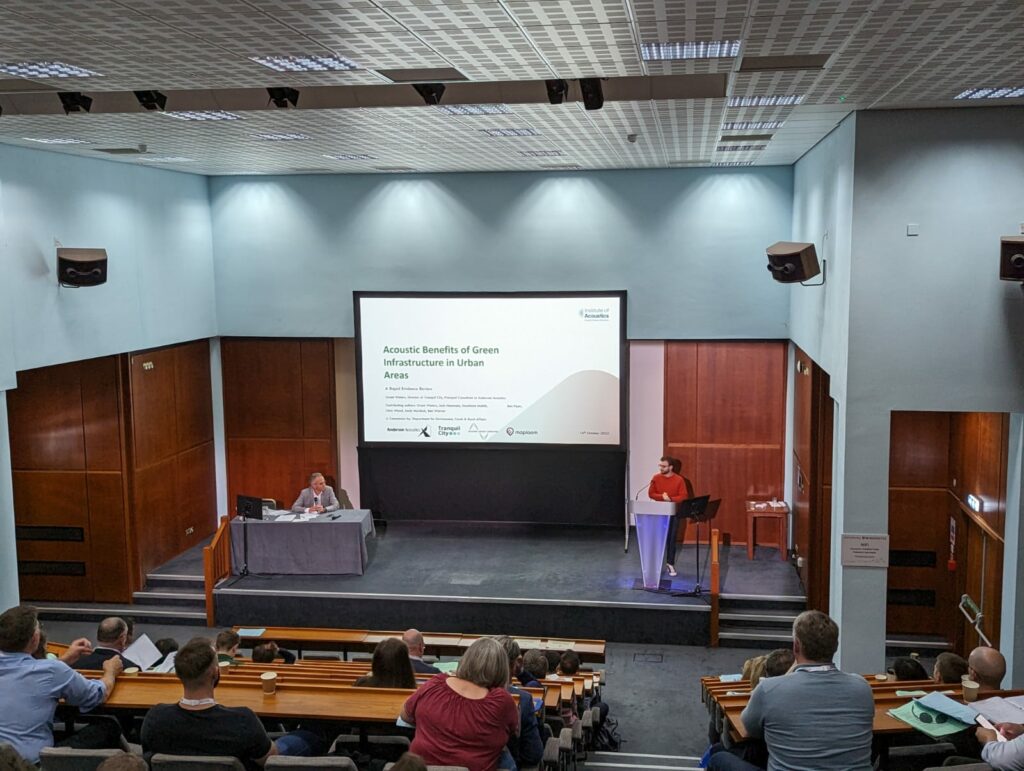 Our CEO Grant Waters presented the findings of a a recent literature review on the Acoustic Benefits of Green Infrastructure in Urban Areas at the Institute of Acoustics ACOUSTICS 2023 conference on Monday 16th October in Winchester.
The review was conducted by the consortium of Anderson Acoustics, Tranquil City, Acoustic Sensor Networks and Maploom on behalf of the Department for Environment, Food and Rural Affairs.
Some of our top-level findings include:
Wildflower meadows absorb more road traffic noise than mowed grassland.
Forestry can provide 6 dBA noise reduction if sufficient depths and densities are designed.
Shallow hedges and vegetation-only barriers can provide 1-4 dBA noise reduction that can help improve speech conditions and make streets more comfortable for walking.
Vertical Greenery Systems can absorb between 40-100% of sound, which means they outperform most traditional building facade systems that are hard and reflective.
Green Roofs can reduce sound propagation over buildings by up to 6 dBA and help create quieter facades and streets.
Intensive Green Roofs provide up to 37 dB Rw airborne sound insulation, helping to protect the building from external noise.
Views of Greenery reduce the perceived level of road traffic noise by up to 10 dBA.
Adding vegetation to a noise barrier can both increase the physical sound reduction it provides by 4 dBA as well as increase its perceived reduction performance and environmental quality due to offering a view of greenery.
People with more green spaces nearby were found to be less sensitive to noise.
Views of green and blue spaces from homes can mediate the negative perceptions of noise that lead to annoyance.
Green Infrastructure can increase the dominance of natural sounds in our urban environments, which has been found to help promote mental restoration.
Noise exposure to green infrastructure can reduce bird and insect populations. It's important to consider noise exposure of habitats when considering biodiversity potential and conditions.
However, we found that there are limited in-situ examples of how Green Infrastructure in cities is designed to provide acoustic benefits. Our report hopes to highlight the importance of #landscapedesigners, #urbanplanners and #GreenInfrastructure solution providers in optimising proposals to help reduce the negative impact of noise pollution in cities, and also help to improve urban soundscapes for people and nature.
If you'd like to have us come talk to your team about our findings, we can deliver a short CPD presentation and discussion. Please do get in contact with Grant at grant@tranquilcity.co.uk to arrange a suitable date and time.