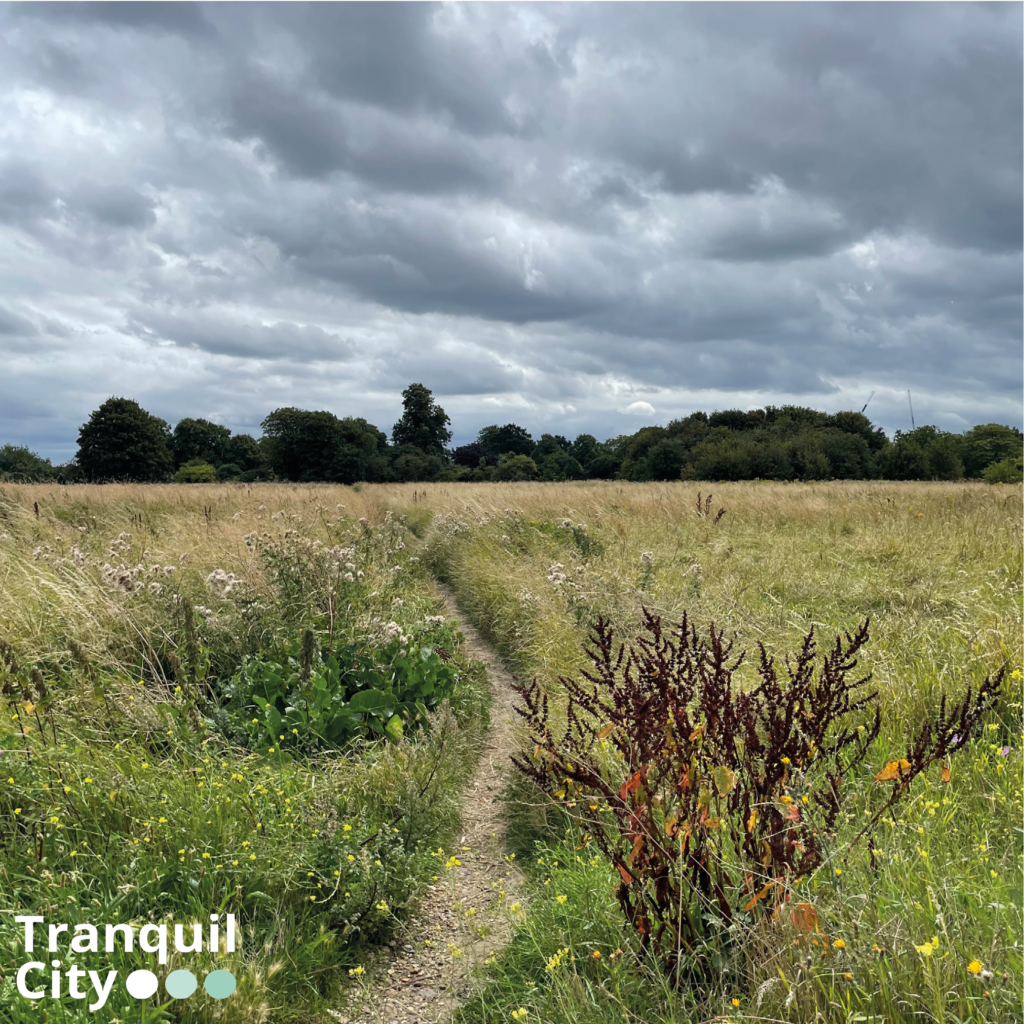 On Saturday 12th August 2023, Tranquil City held a free public walk exploring the potential of rewilding projects in the urban fringes of London and their contribution to local, national policies and wider, global objectives, such as the UNs Sustainable Development Goals. This walk gave us an opportunity to cultivate new networks and showcase the key findings of our latest, exciting Innovate UK commission!
From January to June of this year, Tranquil City has been exploring how we can use our datasets to measure and track progress of local urban design interventions towards the Sustainable Development Goals. We investigated SDGs 3 'Good Health and Wellbeing', 11 'Sustainable Cities and Communities' and 15 'Life on Land'. We found that local interventions are important methods to progress towards the targets set for 2030, but it's difficult for local councils and charities to track this progress. One common constraint was limited knowledge on how to quantify the impacts of small-scale interventions on air and noise quality, access to green space and biodiversity levels. Recognising this challenge, we developed a new method to calculate SDG progress down to a granular level, which means that local interventions (e.g. street planting, pocket parkets, food growing allotments) can show meaningful environmental and social improvements.
Exploring the real world implications of our project, we held our walk in the Eastern part of the Barking & Dagenham borough, exploring rewilding projects of all shapes and sizes within the Becontree Estate and Dagenham Heathway area. We visited new and emerging green space initiatives from Everyone Everyday's petite 'Open Corners' to SUGi's vast "Pocket Forests". We also visited a series of historic rewilding initiatives, connected to the London County Council (LCC) "Garden City" vision for Becontree Estate. As we do with other events, we encourage open conversations during our sensory walks, enabling people to share their thoughts and experiences with the group or with the person next to them. 13 people attended this walk, from extremely diverse backgrounds: local councillors, senior architects, transport planners and data mapping experts to PhD students, youth outreach workers, curious local residents enticed by the idea of a tranquil wander in Dagenham!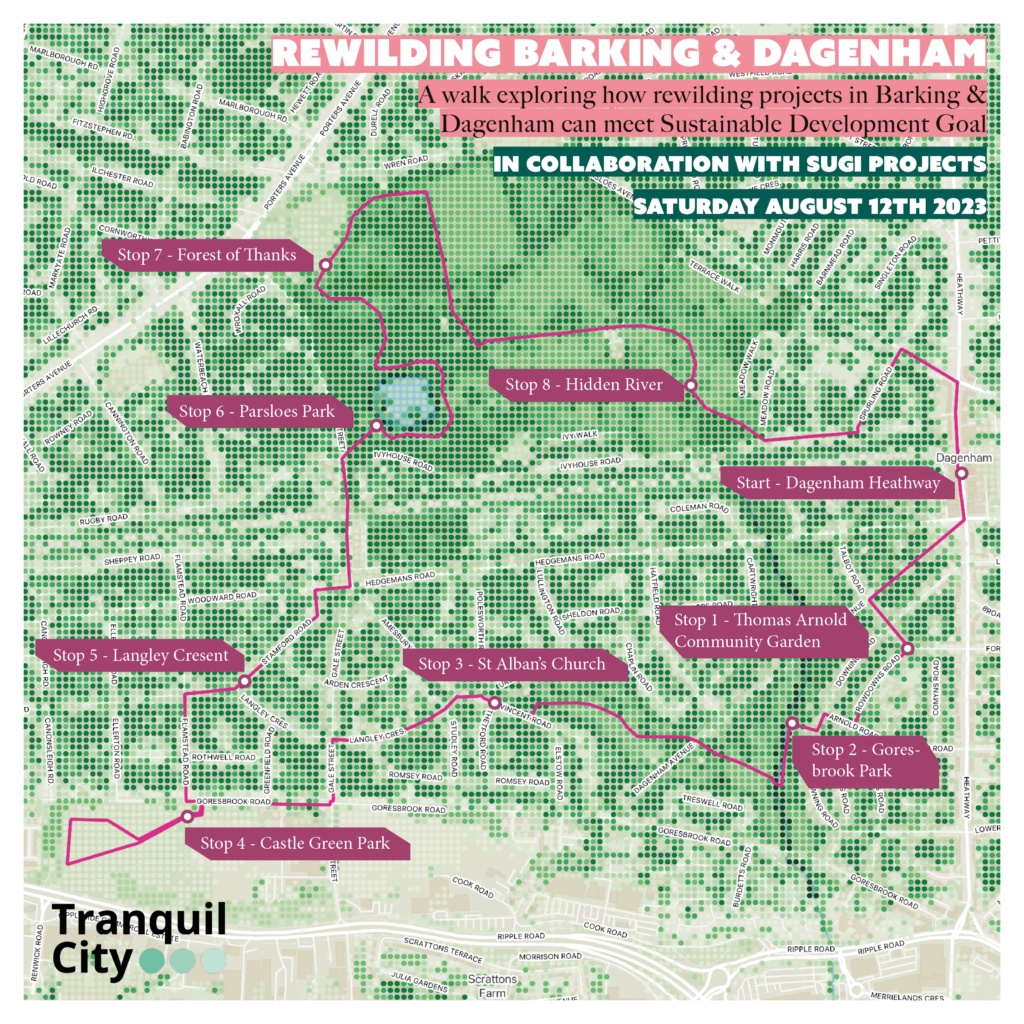 Our walk started at the Thomas Arnold Open Community Garden, where we spoke about the importance of revitalising neglected urban spaces. With Everyone Everyday's help, pupils, their parents and staff from the nearby Thomas Arnold Primary School radically transformed this street corner once strewn with litter. Digging new pathways and flowerbeds back in early 2020, the site now consists of more than 20 willows, field maples, wild cherries and blackthorn trees.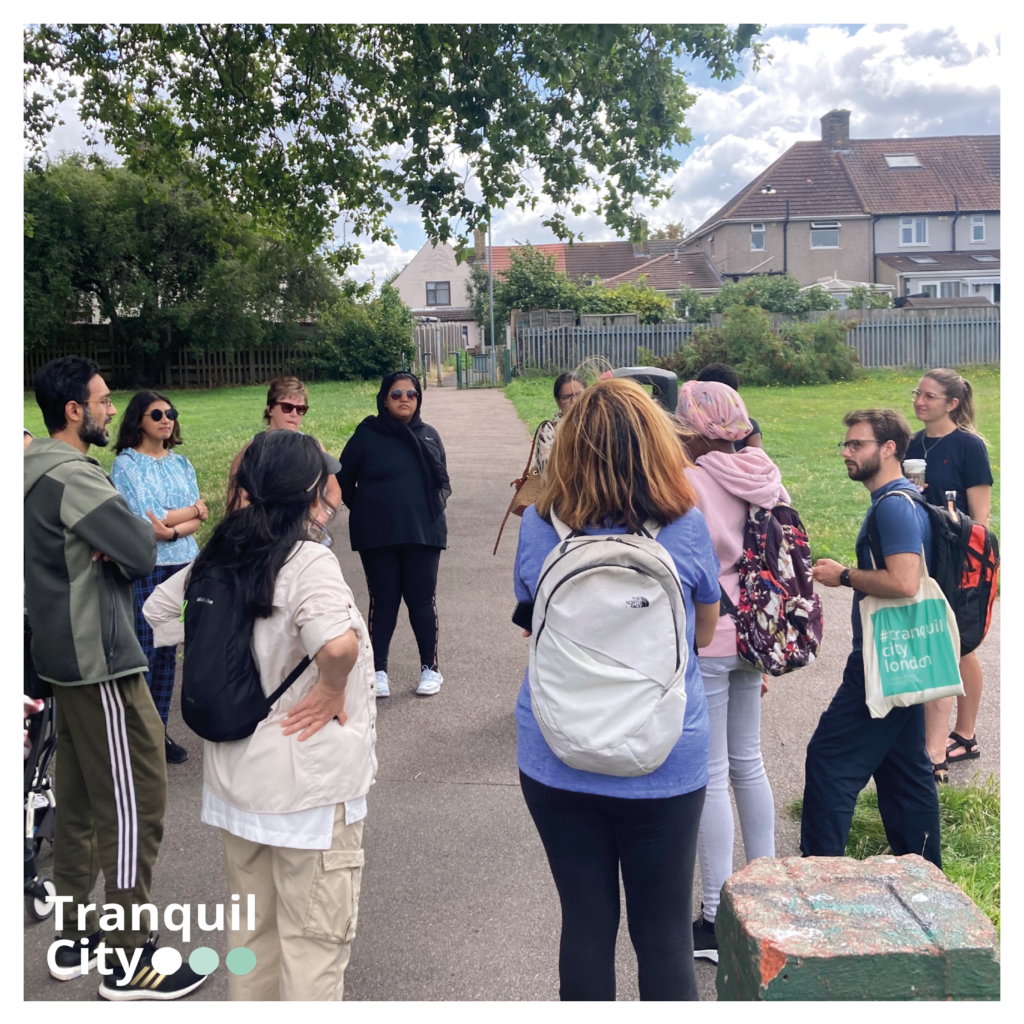 At the Gores (Goresbrook Park), we reflected on the potential of rewilding along "lost" waterways in parks, enhancing biodiversity and recreational value to local residents. Winning some of the Mayor's Green & Resilient Space funding, Barking & Dagenham Council in collaboration with Thames21 & London Wildlife Trust are carrying out an ambitious river restoration project at multiple points of the brook.
Taking in the vast sights of SUGi's biodiversity forest at Castle Green Park, we touched on the functionality of rewilding projects. Situated next to the major Ripple Road (A13), the afforestation scheme (400 m2 in size) is anticipated to massively reduce air and noise pollution and improve biodiversity. Interestingly, this links to recent research we have undertaken with Defra on the acoustic benefits of wildflower meadows compared to mowed grassland.
Taking a detour North, we noticed a lot of green frontages and vegetated sidewalks along the Langley Crescent in Becontree, reminiscent of "Garden City" plans for the neighbourhood. These spaces appeared pretty static, with no indication of who owns such green spaces! Participants felt that such spaces could benefit from bold/exciting signposting (i.e. "Play here") and the right infrastructure, encouraging use and community involvement in their management.
Concluding our tour at Parsloes Park, we lamented over the findings of Natural England research we conducted earlier this year. Parsloes Park accounts for 12% of publicly accessible green space in the Barking & Dagenham Borough. The park has many positive qualities that we found were important to promote use and enjoyment: multiple entrances for connectivity and ease of access; play and sporting areas; and spaces for biodiversity to flourish (acknowledging SUGi's "Forest of Thanks" initiative in the park). Attendees said the park could be further improved with more cafes, toilets and seating.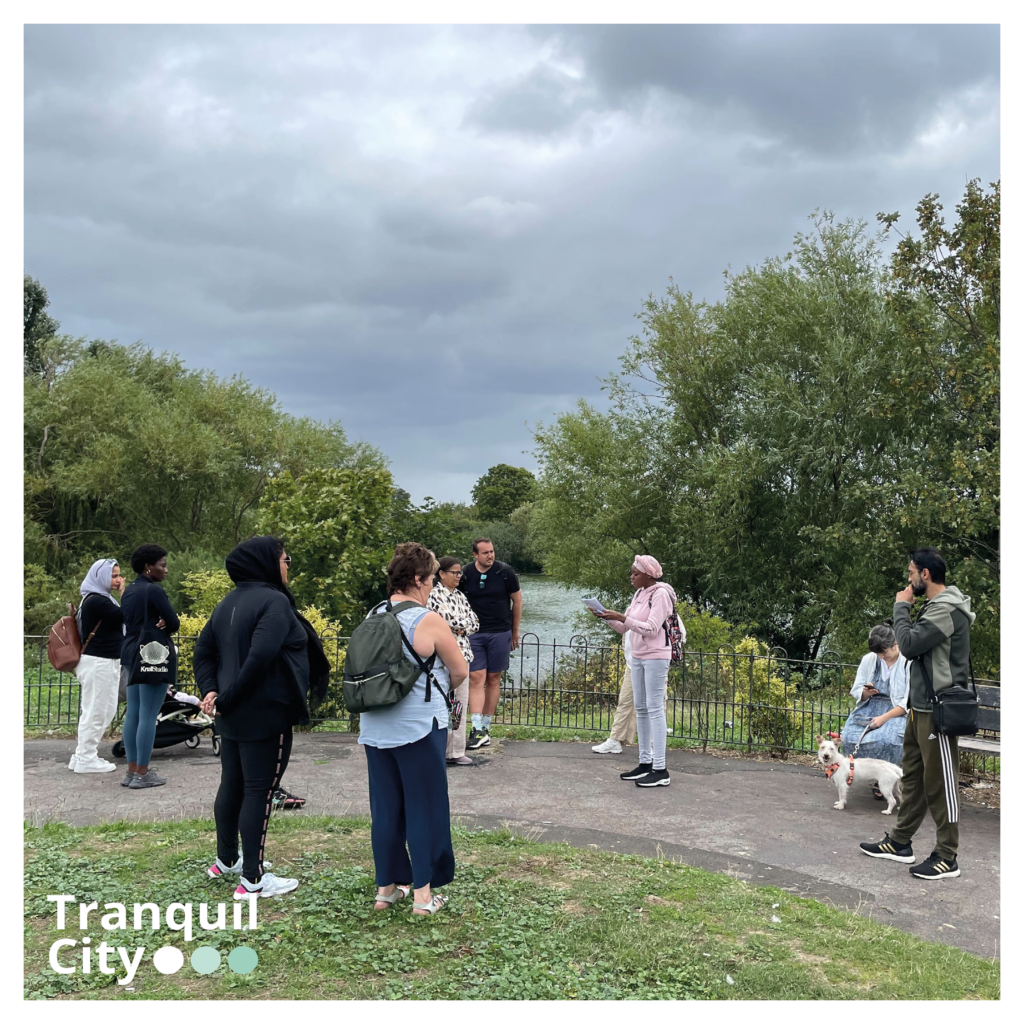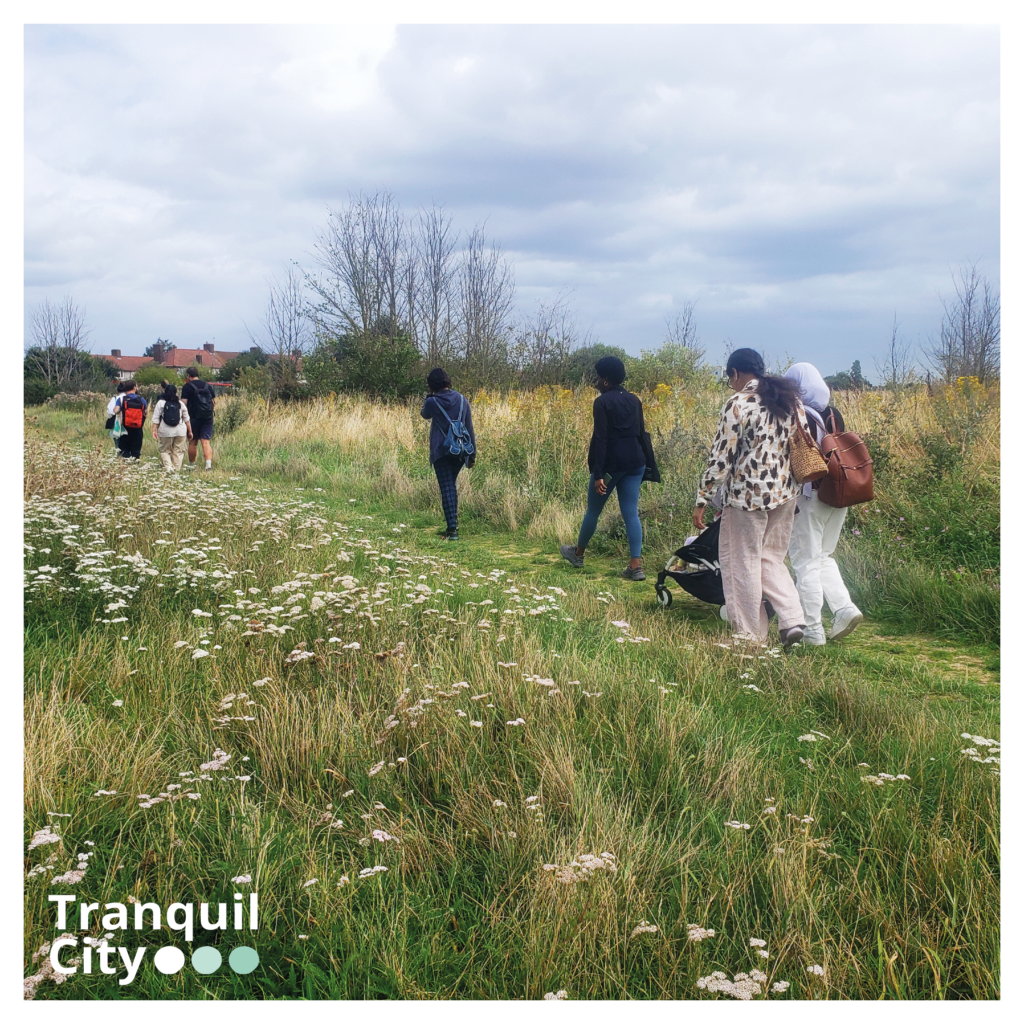 Powerfully, our event highlighted the importance of tracking the impact of bottom-up rewilding projects (alongside top-down initiatives), attracting funding to ensure their protection, enhancement and maintenance. These spaces are an invaluable part of the urban landscape that promote wellbeing for the people, wildlife and planet.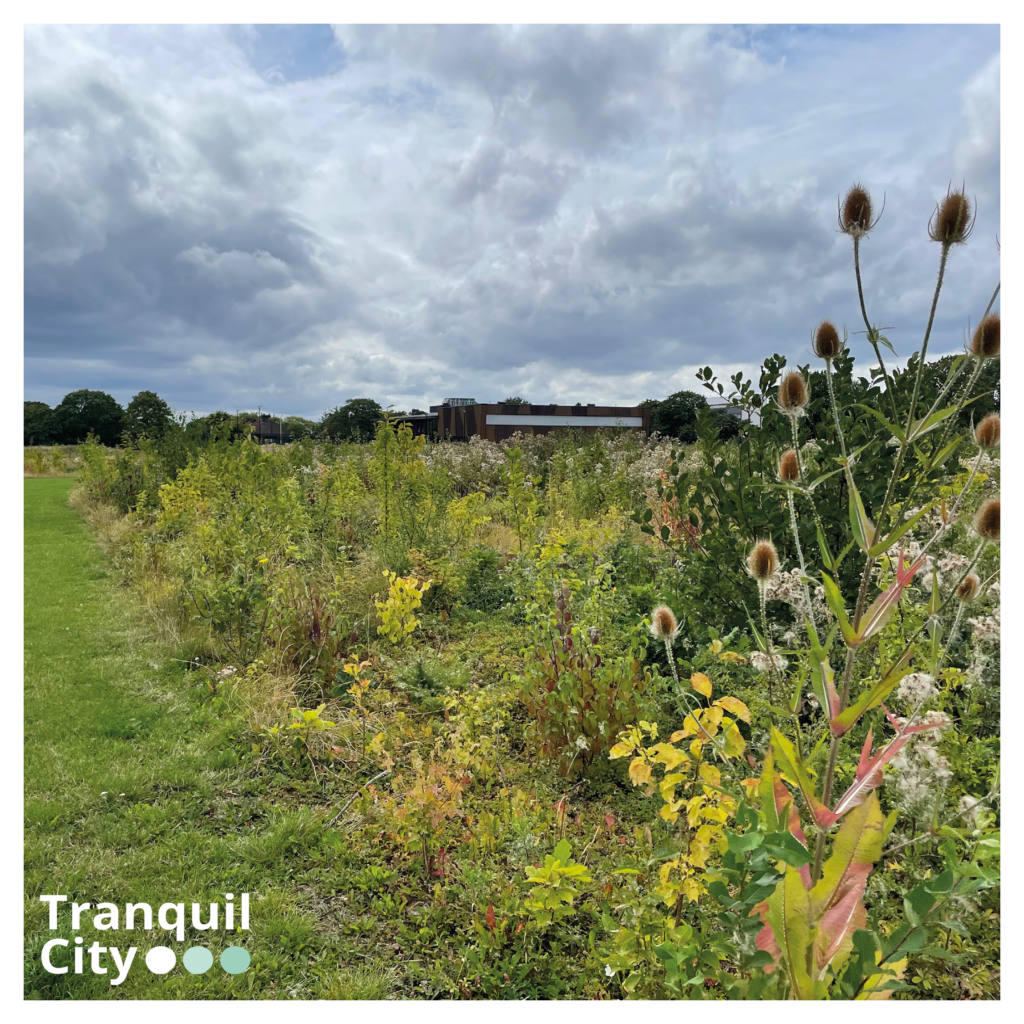 Within our Barking & Dagenham networks, we have also seen a number of cool innovations for community monitoring of air quality appearing. Contemporary urban regeneration proposals should acknowledge these evolving evidence repositories, alongside our own Tranquil City Index and the Urban Greening Factor & Biodiversity Net Gain design indicators that are both on the rise.
Photos of the event and a copy of the walking route (if you wanted to explore the route for yourself and/or share with wider networks!) can be seen below. For any alternative formats, please send an email to hello@tranquilcity.co.uk.
Keep it tranquil!
The Tranquil City Collective
Author: Chloe McFarlane